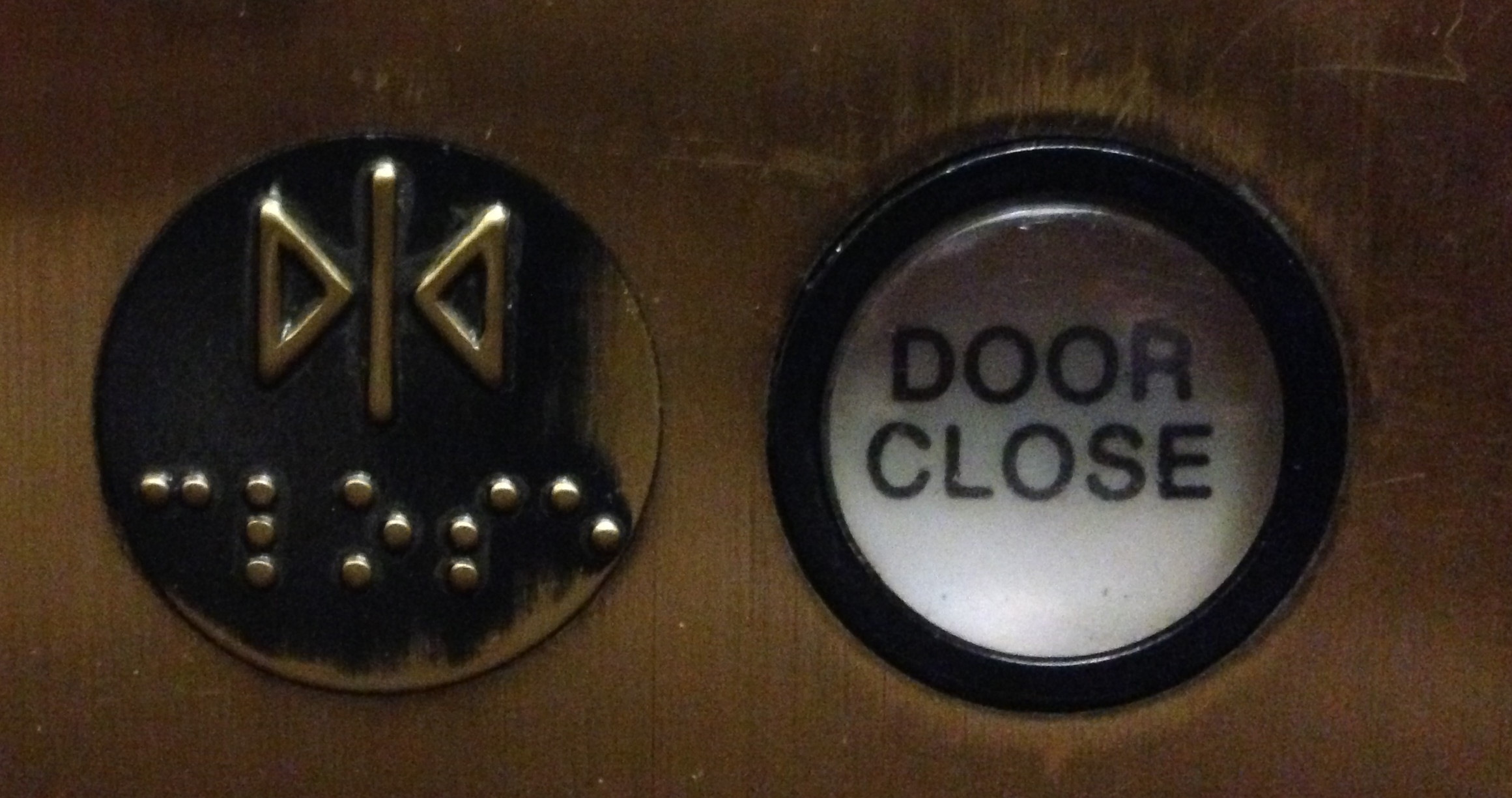 We've all done it. We are running to make it on time to an appointment or we simply don't have the patience to wait an extra second or two so, after we have stepped into the elevator and selected the correct floor, we reach for and push the button marked "Door Close." In order to gain even the slightest edge in our race against time, we frantically press the plastic button and assume we have the ability to interrupt the timing systems and safety mechanisms of the elevator.
Today I learned the button is a fraud.
In a podcast by Radio Lab,
the hosts uncovered the plausibility of approximately 80% of these buttons marked "door close" being non-functional. They are disconnected intentionally. Engineers do not hook up the wires of these bottom level buttons in order to protect and preserve the integrity of the traffic patterns and rhythms determined by the computers within one of our most underrated technologies.
That's right, we actually do not have the ability to manipulate and speed up our upward or downward mobility no matter how many times we jam that button with our index fingers or thumbs. Despite our best intentions, the door will remain open until the integrated system is ready for it to be closed.
Every Lent I am reminded of a similar truth, we cannot bypass the liturgical season linked to lament, confession, and unsettling encounters with our sin, suffering, and a crucified God. No matter how many times we attempt to skip the 40-day journey to the cross, likely favoring the sentiment of Easter over and above both Ash Wednesday or Good Friday, the liturgical rhythm and the sacred season must be endured. The timing mechanism and traffic pattern of the Christian calendar always follows the jubilee of Advent, Epiphany, and a brief stint in ordinary time with a more somber Lenten road.
If we are honest, we need this pause.
"

Then

Jesus

came with them to a plot of land called Gethsemane; and he said to his disciples, 'Stay here while I go over there to pray.'"
Matthew 26:36, New Jerusalem Bible
We need this pilgrimage of contemplation and discontent. We need the Spirit to provoke our consciences and disturb our souls, not so much for the sake of sorrow and grief, but in efforts to remember our call and commission in the midst of a creation that continually groans. Lent is a season when we are forced to confront the dark realities of a despairing world and our despairing selves even as we reaffirm our commitments to cruciform discipleship. Lent is a holy bid to slow down and rest where we are and as we are- fragile persons in a fragile world in a fragile time. Sure, we are those who cling to a promised future, but we must relinquish our temptation to rush upward and close the door too soon on God's dreams for welfare and wholeness in the here and now.
"One cannot say, 'Thy kingdom come!' without hope for our time, for today, for tomorrow. The great Future, with a capital F, is also a future with a small f."
---Karl Barth, Prayer 39
May this Lent be an opportunity to prayerfully engage the here and now, the present places of brokenness in our world, communities, congregations, and our own selves. May this Lent be an opportunity not to rush ahead, but to slow down and consider where and how we may have missed present moments to embody God's concern for despairing persons near and far. May this Lent be a chance to keep the door of confession and lament open for just a bit longer as we then consider fresh possibilities both to receive and practice the resurrection that is surely coming.
This Week's Modern Psalm for Lent: "Come As You Are" by Crowder